The Modern Workplace: Converting Former Employees To Employees For Life

There is a shift underway in every major industry to recognize the value of employees after they leave. Learn the 4 macro trends that drive the growth of corporate alumni programs.
This post is the first in a three-part series that explains the motivation for converting former employees to employees for life and the incredible value realized.
When employees leave, the conventional practice is to say goodbye and move on. But dynamic market conditions create the impetus for staying connected to former employees. For example, leading organizations such as Duke Energy and Bridgewater Associates are fostering brand ambassadors, lowering recruitment costs and uncovering new business opportunities through their robust Alumni Programs.
At PeoplePath, our philosophy is lifelong relationships are the foundation for lifelong success. Although corporate alumni programs have been around for decades, mostly among professional services firms, there is a shift underway in every major sector to recognize the value of employees after they leave. Today, leading companies are taking steps to engage employees for life. Why is this happening now?
Four market forces combine to blow-up traditional employment models
Four macro trends create the perfect conditions for this paradigm shift: the acceleration in the retirement of boomers, the decreasing tenure of younger generations in the workforce, the automation revolution, and the impact of employer review sites.
1. Boomers are tapping out
Approximately 10,000 boomers retire every single day. The trend is expected to continue into the 2030s. The impact of this brain drain on the labor force is dramatic within individual companies and across market sectors. See the chart below for proof of the decline of boomers in recent years.
2. Younger workers are on the move
Millennials have risen to the top of the labor force in the last few years, bringing with them different attitudes about loyalty to employers and work/life balance (see the chart below). According to the Bureau of Labor Statistics, the average job tenure for millennials is only 2.8 years. The Deloitte Millennial Survey 2018 warns that "Loyalty must be earned, and the vast majority of millennials are prepared to move, and move quickly, for a better workplace experience." Post-millennials are likely to continue this trend.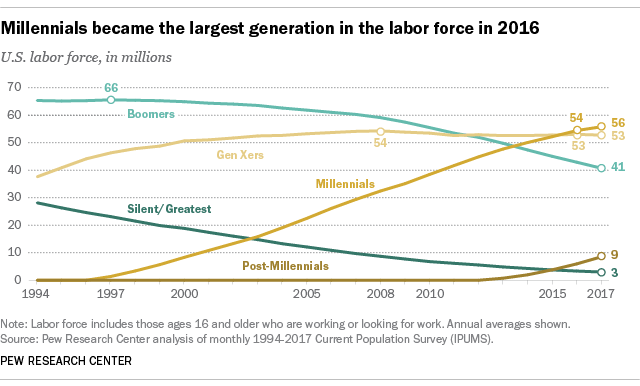 The workforce in most organizations is hit at both ends of the spectrum, old and young. And the impact of these long-term forces is compounded by an extremely tight labor market with the unemployment rate below four percent. However, there is a silver lining. Some boomers continue to work past retirement age in either a full-time or part-time capacity. In fact, retiree rehire programs are gaining traction. And in a similar vein, almost 50 percent of the younger generation say they are willing to return to their former employers for another tour of duty as boomerang employees. But the only way boomers, millennials or any professionals want to return to their former employers is if those companies have maintained connections and engaged with them over the long term.
3. The automation revolution is transforming industries
The automation revolution will undoubtedly have a tremendous impact on not only the global workforce, but every aspect of our world as we know it. The McKinsey Global Institute's recent study, Jobs Lost, Jobs Gained: Workforce Transitions in a Time of Automation, estimates that artificial intelligence (AI) and robots could automate as much as 30 percent of jobs by 2030. At the same time as this massive displacement, new jobs are being created that require new skills. As business leaders everywhere begin planning for these tectonic shifts in the world of work, some recognize that reskilling their current and former employees is the most cost-effective means of preparing for the future. Last year AT&T initiated a $1 billion retraining effort after its research indicated that only about half of their 250,000 employees had the skills needed for the business going forward.
While helping current and alumni upskill is arguably the right thing to do, there are compelling economics behind it as well. The median cost to hire for a new position is 21 percent of compensation and goes up as base salary increases. New hires take five to nine months to reach full productivity; whereas, existing or boomerang employees are 40 percent faster at getting up-to-speed and more likely to stay longer. Lastly, retraining workers enables companies to retain access to valuable intellectual capital.
4. Employer review sites impact employer brand and hiring talent
The final element leading organizations to engage their employees for life is the increasing role that employer review sites, such as Glassdoor, and social media in general, play in shaping an employer brand. According to a 2016 Glassdoor survey, 70 percent of people now look to employer reviews before they make a career decision and the majority read six reviews before forming an opinion. What's more surprising is that former employees write 40 percent of these reviews. So, two or three out of the six reviews read by job candidates on Glassdoor have been written by the company's alumni. Who do you think will be a better brand ambassador on Glassdoor, the former employee that you haven't spoken to since the day she/he left or the one that you have engaged with through an active Alumni Program?
Real benefits from long-term relationships
In summary, retirement, shorter tenures and automation will result in the acceleration of the number of employee transitions across all company sizes, organizational types and industry sectors. Social media has given all employees – current and former – an amplified and influential voice in the talent marketplace as they share "what it's really like to work there." These dynamics have caused many organizations, especially the market leaders, to rethink their approach to employees as they exit. By engaging employees for life through a robust Alumni Program, organizations provide a valuable alumni network and resource for former employees and receive an incredible return in the form of brand ambassadors, boomerang employees, and business developers.
Next up in the series: Our next post elaborates on what a robust Alumni Program looks like. Finally, we cover the quantitative research performed by Cornell's ILR School that shines a light on what motivates alumni to join and how to design a program that addresses these motivations.