From Zero To Light Speed: How To Build An Alumni Network That Delivers Quickly

Building a corporate alumni program from scratch can be daunting. By breaking down the process into achieveable milestones, you can start realizing the benefits of an alumni program quickly while gaining traction.
Building a corporate alumni network from scratch can be a daunting process. Just ask Danya Ray, alumni network lead for Verisk, a Jersey City–based organization that leads the way in providing data analytics insights to customers in insurance, energy and specialized markets, and financial services with operations in more than 30 countries.
Ray joined Verisk in September 2017 to launch the company's alumni network. Verisk had already done some outreach to engage former employees and saw value in formalizing the program. Ray's big question when she joined was, "How can we begin to make an impact quickly and start realizing the benefits of investing in an alumni program?"
By breaking the process down into achievable goals and milestones, Ray has propelled Verisk's alumni network from zero to light speed in just three quarters with a clear path for where it's headed in the future. Here's how she made it happen.
7 steps to building an alumni network
1. Gain executive support
Ray already had an ace up her sleeve. Verisk's CEO understood the value of alumni to help the future of the company. Verisk's business driver for its alumni program was to engage former employees to act as brand ambassadors who could help strengthen Verisk's global exposure and reputation as well as generate leads.
2. Map out two years of action steps
Rather than jumping in and trying to do everything at once, Ray strategically broke down the rollout of the program into manageable action steps. First, she identified what foundational building blocks were needed to support the program, such as an online alumni network platform to manage and segment member data. She also sought input from key internal stakeholders and alumni to understand how the program could best support their needs and then translated that input into program elements and events.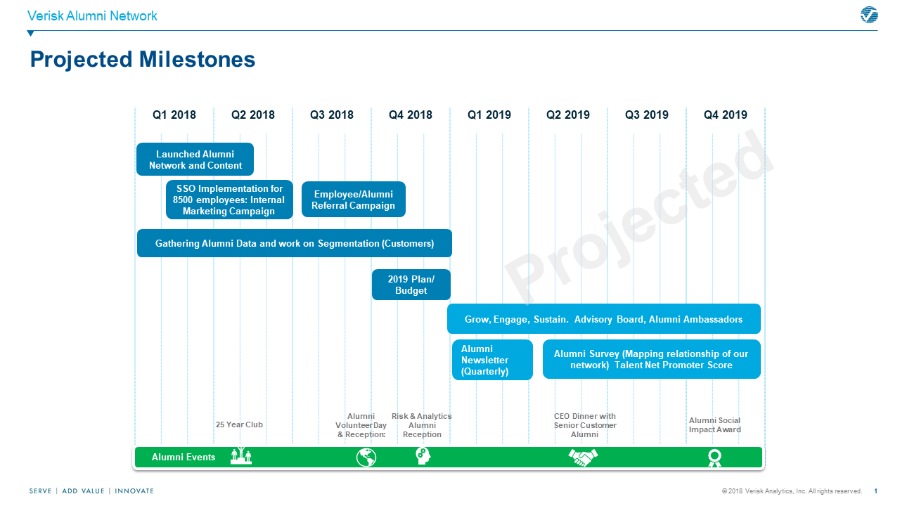 The launch plan for the Verisk Alumni Network is carefully mapped out over two years with measurable milestones.
3. Build the alumni network
The more alumni who join and get involved with the network, the better the results. By working with Human Resources, Ray was able to reach out to former and current employees and introduce the Verisk Alumni Network in a compelling way to encourage them to opt in. Those initial efforts have expanded the database to more than 2,000 alumni and employees. To continue the momentum, she'll also be rolling out an alumni referral program that asks current employees to invite former coworkers to join the network. To sweeten the pot, she's offering an Amazon gift card drawing for employees who add two or more alumni to the network's list.
4. Provide valuable content
Getting alumni to opt in is just the first step. Showing them that the program is valuable is an ongoing goal. One of Ray's main strategies is to make sure content on the Verisk Alumni Network is meaningful and fresh with updates to drive site visits. In addition to repurposing content generated by peers in other departments (such as company news, upcoming events, and the top 10 to 15 job opportunities across all business units), she regularly spotlights an alumni or boomerang employee. She also uses social media to help spread the word and a robust content calendar to help plan and manage the process.
5. Help alumni make connections
Before the launch of the Verisk Alumni Network, Ray networked with other corporate alumni leaders, and post-launch, she's continued to use her connections to help strengthen the program. After meeting a key leader in Junior Achievement's alumni program this past spring, Ray teamed up with the organization for Verisk's Jersey City Volunteer Alumni Day event. Ray organized a career workshop where Verisk alumni can offer mentoring support and career advice to high school students.
When planning program elements to help prioritize where to focus initial efforts, Ray knows it's important to think about WIIFM (what's in it for me). Alumni are more likely to stay engaged if they see how the network benefits them with ways to expand their own professional network through interactions online and at company-sponsored events. When posting news items about the company, Ray chooses items that can help someone who may want to refer business to Verisk to speak accurately about the company and represent its values. She also looks at what types of relationships, such as with Junior Achievement, provide alumni the opportunity to fulfill their professional development objectives.
6. Set measurable goals
Determine your starting baseline for number of members, alumni program liaisons in remote office locations, referral sources, and other key program supports. Then, set measurable goals for growth and review them regularly. Ray recommends reaching out to peers at firms that have alumni networks for advice and insights on how they manage their programs. Read our latest Benchmarking Report on what organizations are tracking.
7. Demonstrate value
Make it a priority to establish methods to track quantitative and qualitative metrics about the success of the alumni program. For example, Ray works with Sales to help track the value of new business attributable to referrals from alumni, and she relies on Human Resources to provide data about boomerang employees or referrals from alumni. On the qualitative side, she records anecdotes from employees and alumni about the value of events, connections, and content on the network's platform.
Companies that launch alumni networks are making an investment in the value of the programs to build relationships, develop brand ambassadors, and drive business. By implementing these key tips, alumni managers can get their program up, running, and producing in record time.