Case Study: Igniting Success for SAP Alumni Network with PeoplePath

We are proud to partner with SAP to help them achieve their goals for their corporate alumni program. This case study covers what led SAP to review what was important to the organization and find a vendor that catered to their needs by offering flexibility and technical expertise to reach their full potential.
Unleashing the Power of Alumni Engagement
In today's rapidly evolving job market, where shorter job tenures have become the norm, organizations face the challenge of retaining the value and connections of their employees after they leave. Recognizing the strategic potential of their alumni network, SAP took proactive steps at the beginning of 2015 to nurture relationships, leverage alumni as brand ambassadors, and tap into their vast network of connections as a source of talent, quality referrals and business development. To effectively manage and maximize these opportunities, SAP partnered with PeoplePath in 2017 as their chosen alumni platform vendor.
SAP's alumni members enjoy a variety of benefits including global and local networking opportunities, job insights, and the latest industry updates. The resulting high engagement levels within the alumni community have helped achieve SAP's goals, namely developing authentic brand ambassadors who regularly recommend SAP as a great employer, or their products. The collaboration between SAP and PeoplePath continues to strengthen and grow as they always seek innovative and creative ways to elevate the alumni experience.
Identifying Opportunities for SAP's Alumni Program
SAP SE, a global technology leader, stands at the forefront of driving innovation and empowering businesses across the globe. With a rich history and a commitment to excellence, SAP has emerged as a trusted partner for organizations of all sizes, providing cutting-edge solutions that transform the way they operate.
SAP enjoys a reputation as a global top employer. Navigating the new norm of increasingly shorter job tenures is a topic of strategic importance, and SAP was determined to turn this challenge into an opportunity and ensure the preservation of connections and knowledge throughout their alumni's careers.
SAP identified several key challenges and opportunities in their alumni engagement efforts:
Maintaining lifelong relationships with alumni
Cultivating alumni as strong brand ambassadors
Strengthening the SAP ecosystem and fostering business development
Retaining alumni within the talent pool to leverage their connections and potential return.
Why SAP Chose PeoplePath
SAP was looking to improve their program and selected PeoplePath for the following reasons:
Flexibility: A key differentiator is PeoplePath's highly configurable, flexible, cloud-based solution that meets SAP's requirements.
Integrations Experience: PeoplePath delivers on critically important integrations to enhance both the user experience and streamline administrative tasks. A robust integration with SuccessFactors (HRIS system) enables contact data and activities transferred between systems, streamlining administrative processes.
Platform Features: PeoplePath's platform boast advanced features, such as the extensive automation and reporting tools. Alumni relations team members can manage large, diverse alumni communities, but in a personalized manner. Reporting and dashboards visualize the success of activities and fine-tuning efforts for future improvements.
Vendor Reputation: PeoplePath has an outstanding reputation in the market for their partnerships rooted in integrity, honesty, and commitment to the success of their client's programs.
How PeoplePath Addressed SAP's Needs
PeoplePath worked as SAP's strategic partner to leverage technology, creating a highly engaged network in the following ways:
Utilized a Centralized Platform: A single "one-stop-shop" platform was established to manage and engage the growing alumni community. Members are encouraged to build connections, share current occupations, and connect with like-minded professionals.
Built an Alumni Registration Integration: The registration process was seamlessly integrated with SAP's existing SAP SuccessFactors HXM suite, as part of the employee offboarding procedure, streamlining processes and ensuring a smooth transition from employee to alumni.
Offered Personalization and Segmentation: Platform content and communication tools enabled targeted email campaigns and personalized content to keep alumni engaged.
Explosive Growth in the SAP Alumni Network
The collaboration between the SAP Alumni Network and PeoplePath transformed an employee lifecycle beyond traditional hire-to-retire boundaries.
Key Performance Indicators Grew Across All Areas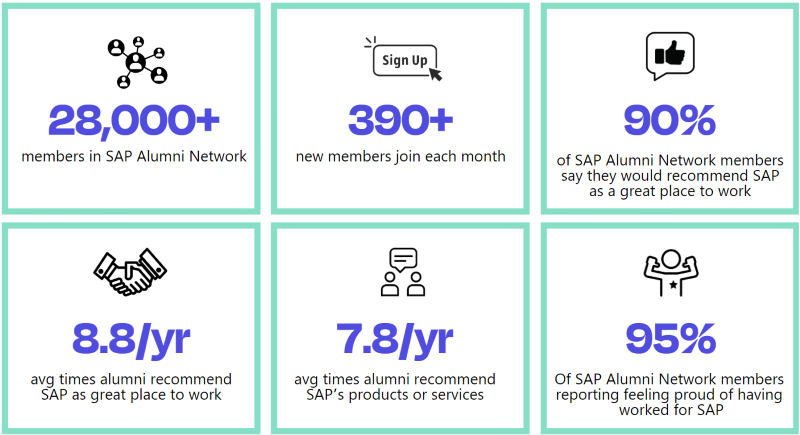 Through their collaboration with PeoplePath, SAP Alumni Network supercharged their alumni engagement. They now see more than 390 new members join the network monthly, contributing to a community of over 28,000 members in 93 countries. They harnessed the power of their vast network of former employees, of which 90% of members say they would recommend SAP as a great place to work.
By implementing a comprehensive platform and tailored engagement strategies, SAP Alumni Network has not only retained lifelong relationships, but also gained invaluable brand ambassadors, business partners, and potential customers. On average, SAP alumni recommend SAP products or services around 8 times per year. And since 95% of SAP alumni say they were proud to have worked for the company, they also send numerous valuable referrals to the company throughout the year.
The partnership between SAP Alumni Network and PeoplePath continues to drive innovation and further enrich the alumni experience, demonstrating the immense value of alumni engagement in the modern business landscape.
"It's fascinating to see how the trust within the alumni and employee community grows and how it sparks ideas and collaboration. PeoplePath supports SAP in transitioning our employees into our alumni program and keeping them a part of the SAP family."
—Margret Klein-Magar, Vice President and Head of Global Alumni Relations, SAP SE
Unlock the Value of Your Own Alumni Network
Reach out directly, or contact us via the SAP Store, and discover how our proven alumni management software can help you keep your alumni connected long after they leave.
From motivating product and employer brand ambassadors to driving business development and building a knowledge network, the PeoplePath alumni platform is designed to maximize the value of your alumni network through the cultivation of lifelong relationships.
From inspiring brand ambassadors and fostering business development to creating a robust knowledge network, the PeoplePath platform makes it easy to cultivate lifelong relationships, ensuring that you maximize the full potential of your alumni community.
Don't miss out on the immense opportunities that alumni engagement can bring to your organization.
Contact us today to learn more about how to engage your talent for life.